We have tested numerous dash cameras and published our reviews here and on our
YouTube channel
. This page is a summary of "what's best", "what's affordable" and "what's a good value". If you want to learn about how to pick a dash camera, you can see our
Buyer's Guide
. Otherwise, enjoy the many hours of work condensed into one simple page.
Updates

Sept 26, 2017: Updated camera selections and descriptions. Added A119V2, Viofo G1W-S.
Jan 8th, 2017: Added our latest budget camera roundup
Nov 25th, 2016: Removed the Blackvue DR650GW-2Ch and replaced it with the Thinkware F770 which is a better camera for most drivers
Oct 24, 2016: Added the Vicovation OPIA2 as a new premium camera pick
Aug 1st, 2016: Added the Viofo A119 as our top dash camera pick.
Top 5 Budget Cameras ($100 or Less)
To quickly learn what we think are top budget choices for 2017, please check the video below. Note that this video is a bit old and any updates will be mentioned later in the article. Nevertheless, all of these cameras are still great budget choices.
Best Value for Most Drivers
Viofo A119V2 – $100
The Viofo A119V2 is the updated version of the Viofo A119 we recommended. It has the same heat-resistance, video quality and functionality we thought was essential and adds many improvements and updates.
Like all dash cameras we recommend, it turns on and starts automatically while giving you useful error notifications if you have problems recording. If you're unsure of what you need, watch our video above and take a look at our other picks. See our written review for more information and places to buy the camera.
See the Price on Amazon (USA/UK)See the Price on eBay (International)
Our Cheap Pick for Cooler Climates
Yi Dash Cam – $50
The Yi Dash Cam has continued to impress with its rock solid stability and performance in the 18 months since it's been released. The video quality is fantastic. It has WiFi to stream/download saved videos to your smartphone, all for the low price of $50. It's not our top value pick because of two issues in warm weather. First, it loses focus resulting in a blurry image. Second, it has lithium-ion batteries which can swell and expand. We still recommend the $100 Viofo A119V2 for anyone who can afford it, but the Yi is an amazing choice for drivers in cooler climates (<25°C).
Get it on Amazon (USA/CA)
Get it on Amazon (UK)
Most Affordable Hot Weather Camera
Transcend designed the DrivePro 200 for drivers in hot environments. The 200 has a solid history of working in hot environments backed up by Transcend's two-year warranty. Its biggest downside is the just acceptable video quality. However, to get a heat-resistant upgrade, you'll be paying $200+ for the Vicovation OPIA2. If you don't live in hot conditions, there are much better choices.
Read our full Transcend DP200 Review
See the Price on Amazon (USA/UK)
The best $60 camera for warm weather
The Viofo G1W-S has replaced our previous $60 recommendations – the A118C and the A118C2. Viofo upgraded the hardware and quality control. We think this is the best $60 camera for warmer temperatures. But, one major issue is the poor error notifications as it's hard to know when your camera has problems recording. We would only buy this camera if you can't afford our $100 picks.
$55 from eBay (estore009)
Premium Dash Camera Recommendations
Our premium picks start at $200+ and give you better performance, reliability and often accompanied by better customer service. Watch the video below to learn the benefits of paying more.
The best dash camera
Update: Vicovation has released the OPIA1, a big upgrade to the OPIA2. The OPIA1 improves the video quality by using a Sony Starvis sensor and adds a larger aperture f/1.4 lens. Wifi was also added to download/stream record videos. This camera now has everything we want in a dash camera
After searching for a camera we can recommend to all drivers, it's the OPIA2. It nails all the essentials of a great dash camera. The OPIA2 amazing video quality, heat resistance up to 75°C/167°F for hot & humid environments and finally a good parking mode.
While there are personal preferences around shape, stealthiness, we wouldn't hesitate to use this camera in hotter weather.
Read our Vicovation OPIA2 Review
See the OPIA2's Price on Amazon
Top Parking Mode Camera
Updates: We recently purchased Thinkware's next-generation camera the F800. It has a new processor and STARVIS sensor for improved low-light quality. The upcoming F800 pro is the more interesting model as supports larger SD cards (128GB), live-tracking features, stealthier look and energy saving modes. You can consider getting these cameras if you were thinking of purchasing the F770.
The Thinkware F770 is a great choice for front/back recording of your vehicle in parking lots. It has some of the best quality for dual channel systems, low energy usage, and a supportive dealer network.
Its black body is specifically designed for the North American market to be stealthy. It also incorporates a thermal protection sensor which shuts down the camera when it's over 75°C. As well it uses 23% less energy than the Blackvue DR650GW-2CH which means you can record for longer.
The downside of all dual channel cameras system is the video quality relative to cost. It's a $400 system, but it doesn't come close to the video quality of the $100 Vifo A119. It is easier to install as everything is included except the microSD. As well it has Thinkware's history of exceptional quality control which means better reliability.
Read our Thinkware F770 Review
Use coupon code "carcamcentral20" for $20 off your order of $400 or more
$360 from BlackboxMyCar
See the Price on Amazon
Choosing the Right SD Card
Certain SD cards have better durability which is important as dash cameras put a lot of wear and tear on the memory card which can cause it to fail over time. Certain features like MLC memory are important, but it's not obvious what to purchase. We wrote up a guide and made a video which goes in detail and explains our recommendations.
We have three quick recommendations
Our Pick
Our top recommendation is Transcend's High Endurance line. Optimized for dash cameras and has error correction codes which may factor into it's long history of reliable performance.
See the Price on Amazon
Budget Recommendation
This is our budget recommendation. We now recommend Transcend's 400X even though you lose the warranty when used in dash cameras. The 400X is recommended by a number of manufacturers we trust including Vicovation & Street Guardian – both design cameras for hot weather. The 400X has a better history of reviews compared to other alternatives. It also has error correction codes we think contribute to its great durability. We could not find a good alternative with a warranty that had a history of use with dash cameras (Samsung voids warranty).
See the Price on Amazon
Alternative – Transcend High Endurance
Sandisk has their own dash cam specific memory cards. Its ratings have been excellent on Amazon in the 2 years since it has been released. As well it's often cheaper and has better availability than the Transcend High Endurance around the world. While Transcend's card has better lifespan we think the Sandisk card is still a great choice.
See the Price on Amazon
Notes about other SD cards: These are the only three SD cards we felt comfortable recommending. Other SD card manufacturers like Samsung, Adata, Toshiba, Kingston have also stepped into the market, but don't have a long enough history of reliability when used in dash cameras for us to recommend them. Samsung EVO cards have been used more and more in dash cams and Kingston's industrial line of SD cards might be good for dash cams, but we don't have enough convincing data to recommend them yet.
Promising Dash Cameras
Thinkware F800/F800 PRO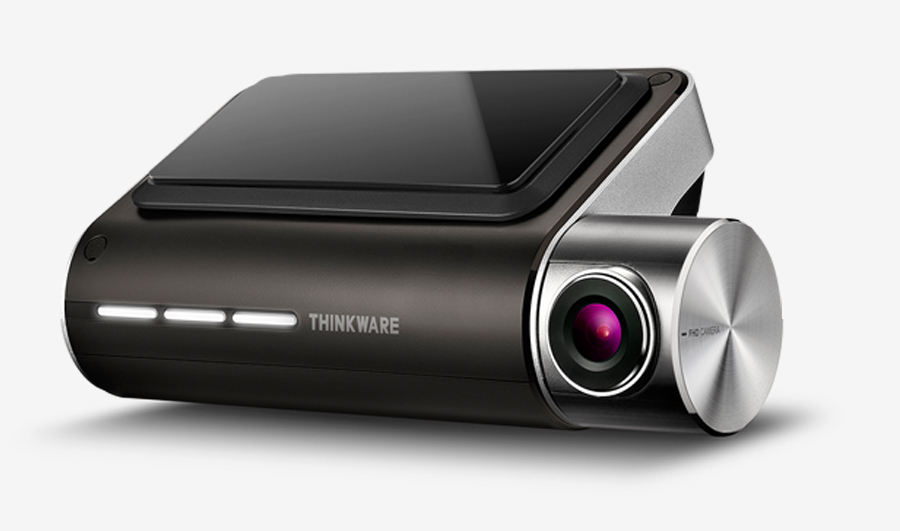 Thinkware's newest models offer you higher quality videos and better performance. Both models have an upgraded Ambarella A12 processor and improved Sony sensors. The F800 isn't a big upgrade over the F770, and the new silver paint design might not be as stealthy, but still, improved hardware might be a worthy investment.
The upcoming F800 Pro is interesting. It sports a more discreet, black matte look and supports up to 128GB SD cards. Most importantly, Thinkware has finally presented long awaited "cloud" features in their camera. Before the F800 Pro their main competition in Blackvue was one step ahead when it came to innovation, but now both of these companies and their clients can compare which of the companies does a better job.
Get it on Amazon
Vicovation Opia 1 WiFi
The lauded Opia 2 model has been a perfect camera for many users. It is heat resistant, records great quality videos and rotates for that additional coverage. A major drawback for some users was the lack of WiFi in the Opia 2 model. That is not a problem anymore. The new Opia 1 WiFi now has WiFi features to embellish a product that's great already. Guys from Vicovation have upgraded lens to 7G, improved an aperture at f/1.4 and narrowed the viewing angle to 145 degrees. 1080p max quality is a down, but added WiFi and upgraded hardware still make up for a great premium camera.
See the price on eBay